SMART E263/E77
Project title in English: Smart corridor Tallinn-Tartu-Luhamaa-Riga E263/E77
(abbreviation – SMART E263/E77)
Project title in Latvian: Viedais Tallinas – Tartu – Luhammā – Rīga koridors E263/E77
Project ID: CB891

The aim
Project SMART E263/E77 is developed to implement smart dynamic traffic management solutions to increase traffic safety and save travel time in E263/E77 in close cooperation between Estonian and Latvian national road operators sharing knowledge and developing new joint approaches. Cooperation with national traffic management centres will enable pro-active cross-border traffic management.
Project will be implemented in close cooperation between SJSC "Latvian State Roads" and Estonian Road Administration (Leading partner).
Cooperation between Latvian and Estonian Traffic Management Centers will also allow developing a common approach to cross-border traffic management. In other words, it will allow users to obtain and deliver the necessary information on the condition on either side of the border in time.
Reasons
The E263 (2) and E77(A2) are roads respectively connecting Estonia and Latvia to the Russian border and Pskov (RU). They both have 2+2 motorway sections with very high traffic density near Tallinn and Riga. They are one of most intensively used road sections connecting ports, logistic centres and they connect capitals with Eastern regions. More mild climate with dynamic speed management allows significant time-savings due increased speed-limits in winter period when road conditions are safe. The growing transit truck traffic is seen as a critical player in traffic safety, more truck drivers from the Southern part of Europa are involved with minimal experience of winter driving causing an increasing number of traffic accidents. Smart weather responsive traffic management solutions create new possibilities to communicate with roadusers to warn them about severe weather risks and to inform them on safe winter driving.
Approach
In EE, E263 Tallinn-Tartu-Võru-Luhamaa road will have smart dynamic speed management (up to 110 km/h) in Tallinn-Kose 2+2 section km 6-40 and E263 section between the Mäo and Luhamaa will be equipped with warning VMS signs to assure in-site critical road information delivery. In LV, E77 (A2) Riga-Pihkva road 2+2 motorway section from A4 junction to A3 (30 km section) will be equipped with dynamic speed management (up to 110 km/h). E77 section between A3 junction to EE border will be equipped with warning VMS signs to assure in-site critical road information delivery.
Expected results
All measures in Estonia and Latvia will save travel time 2,46 minutes per vehicle (0,88% up to 5,6% on 2+2 sections) and increase traffic safety in Tallinn-Tartu-Riga transport corridor.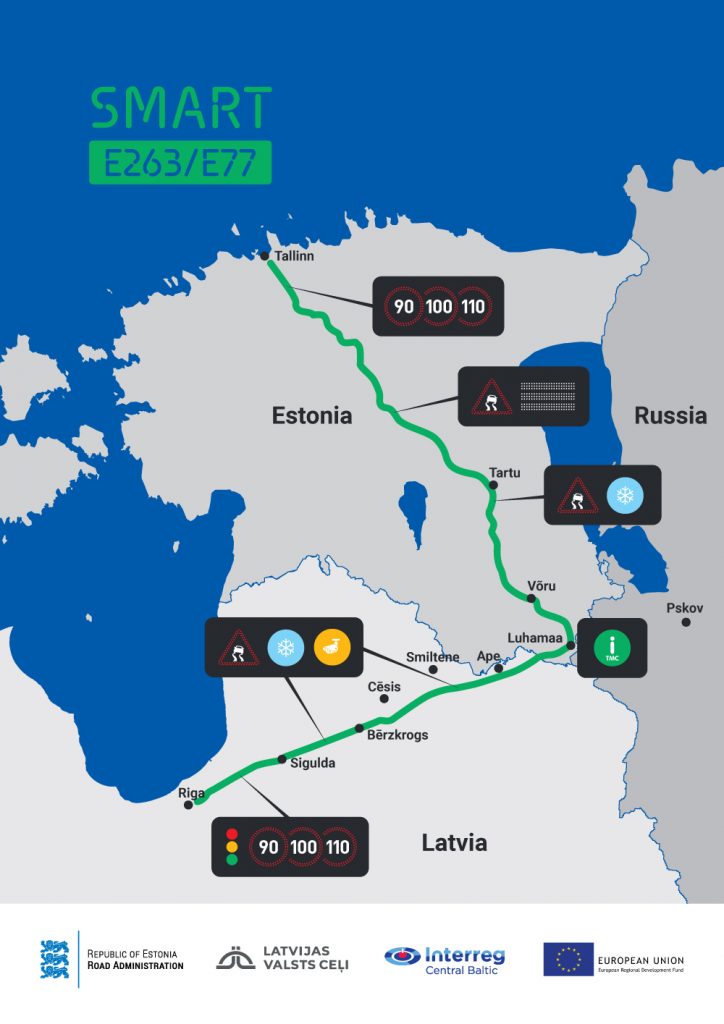 Budget
The project SMART E263/E77 is coo-financed by the Centralbaltic Cross-border Cooperation Programme 2014-2020. The total budget of the project is 2.6 millions EUR, including 81% ERDF. The total budget for activities in Latvia is 1.26 millions EUR, including 1.02 millions EUR ERDF.
Implementation period: 01.06.2020 – 30.11.2022
Other information about the project implementation
Feasibility study was carried out in summer 2020 to assess and verify the conformity of the traffic organization measures provided for in the Project with the requirements of technical regulations and the principles of good practice of the traffic organization, by defining existing problems and offering the most effective solutions (subject to restrictions), as well as detailing the location and functionality of the variable information traffic signs originally expected in the Project application.
In autumn 2020, the preliminary design of the necessary electrical network connections has been started, providing for construction in spring 2021, in winter, it is planned to start preparing documentation for public procurement for the designing, supplying, and installation of the Intelligent Traffic Organization equipment.
Useful information:
About Programme: www.centralbaltic.eu
About Europe Union: www.europa.eu.
Project manager:
Boriss Jeļisejevs
SJSC Latvian State Roads
Head of Traffic Information center
E-pasts: boriss.jelisejevs@lvceli.lv
//= the_permalink(); ?>